Sooooo long story short.....bought a house last month, and it turns out I'll have 2 mancaves (yes!), one will be slightly classier, lol. So I'm thinking of ways I'd like to make a display for my own childhood 3,75 figures.
Saw a lot of people use shadow boxes, which is what I'm leaning towards.
Thought it might be cool to get 3, and hang them on the wall one on top of the other; and in one, have the quintessential ANH characters, the next ESB, and the bottom one ROTJ.
Saw these at Michaels, and they already have a LED light switch in them: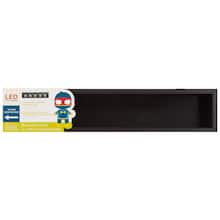 Shop for the 28" Front Loading LED Display Case with Glass Frame by Studio Décor® at Michaels. This beautiful illuminated display case with a glass frame will make an excellent addition to your home décor.
www.michaels.com
Anyone have any experience in doing something like this? I'd love to see some photos to get some more ideas.
Thanks!